On Feb. 16th, now exactly two weeks ago, one Fox News talk show host expressed her distaste with some critical comments about President Trump from NBA players LeBron James and Kevin Durant in an ESPN podcast.
"Must they run their mouths like that? … There might be a cautionary lesson in LeBron, for kids; this is what happens when you attempt to leave high school a year early to join the NBA," said the talk show host. She continued, "LeBron and Kevin, you're great players, but no one voted for you. … Keep the political commentary to yourself, or as someone once said, 'shut up and dribble.'"
That talk show host felt that James and Durant should remain silent on social and political issues and stick to what they know best, which is of course dribbling and playing with an orange ball. However, whether you agree with their political stances or not, they have the right to express their opinions, and consequently to speak out on issues that are important to them.
NBA players have an incredibly powerful platform, one that they can use to spread ideas and create positive change in their own communities and beyond. Many of these players were raised in difficult circumstances and are a living testament to the American Dream, the idea that through hard work and personal sacrifices, almost anyone can reach success in this country. They can be particularly influential for young African-Americans, who see these black superstars do amazing things on and off the court, and dream that they too can do the same one day.
In addition to using their voices to generate positive change, players also make special efforts to reach out to communities and directly help others achieve success. Here are seven positive things NBA players have done in philanthropic and charitable efforts since those comments were made.
Remember, all of this has happened in just the two weeks since "shut up and dribble" was coined on Fox News. NBA players have in the past and will continue to serve their communities in many positive ways.
Team LeBron won the All-Star game, and donated $350,000 to After-School All-Stars as part of their incentive.
NBA All-Stars had a different motivation to play hard this year; they were battling for the charities their captains had selected beforehand. The winning team would get to donate $350,000 to said charity, while the losing team's charity would still receive $150,000.
In addition to the new captains format switching up the team structures, the charity donations provided extra motivation for players to try harder and create a more competitive game. This change was evident, and Team LeBron defeated Team Stephen by a score of 148-145. That sounds like a high-scoring game, but it was clear progress from the no-defense dunk fest that was last year's game.
LeBron selected After-School All-Stars Los Angeles, which provides comprehensive out-of-school programming for more than 8,000 students in need across 52 schools. Stephen Curry's charity was Brotherhood Crusade, which also helps disadvantaged youth in Los Angeles.
Kevin Durant committed $10 million to College Track, which will help disadvantaged kids attend college.
College Track is a program based out of California that gives kids in underserved communities a path to reach college. It provides tutoring and test preparation, and teaches kids how to find a good fit for them and obtain financial aid. Durant found out about the program from its founder Laurene Powell Jobs, who he met through his interest in tech-based investments.
Durant is opening up a center in the D.C. area where he grew up, hoping he can provide children with many of the opportunities he wishes he could have had. The $10 million will kick start construction of the Durant Center, as it will be called, and it will be the first one of its kind on the East Coast. Durant understands that while playing basketball was a great path for him, it's not for everyone, and students from all backgrounds deserve opportunities to achieve success.
Harrison Barnes, Rajon Rondo, and Jabari Parker each took hundreds of kids to see Black Panther in movie theatres.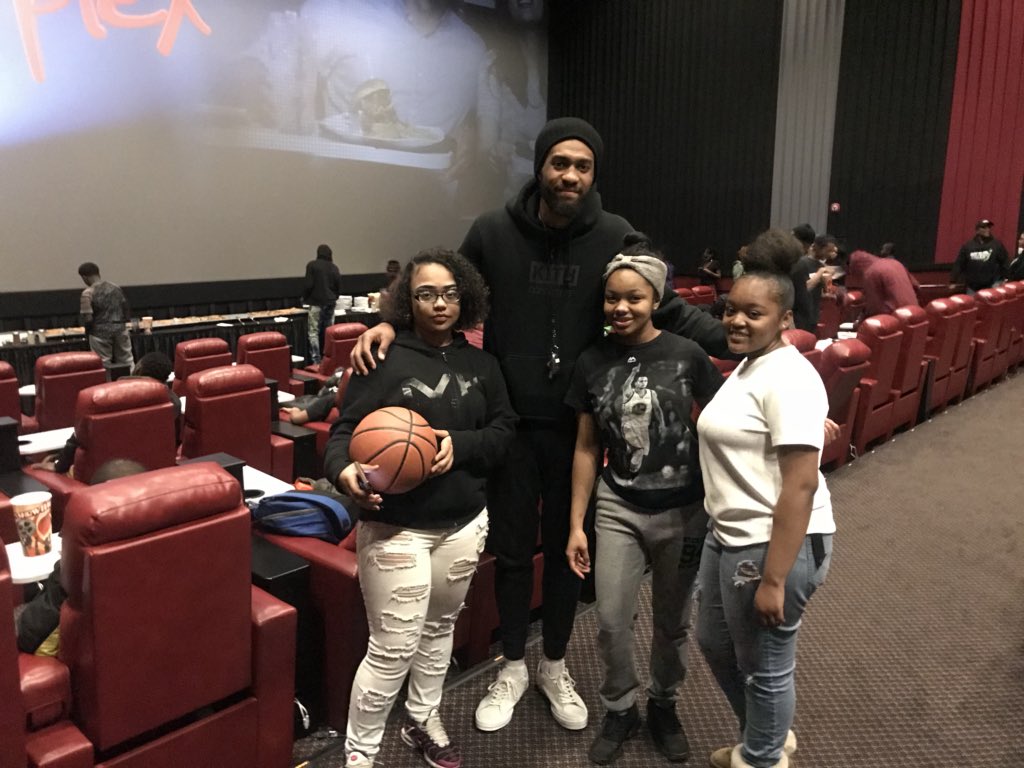 Black Panther, already the highest grossing film of 2018, has incredible cultural significance for African-Americans. It gives black children a chance to finally see a major movie centered around a black superhero and supporting cast. A few NBA players recognized this, and made special efforts to get kids out to see the new movie.
Mavericks forward Harrison Barnes took 150 kids to see Black Panther in Dallas. "I was going to go see it anyway. So why not invite 100 kids, get a theater and we can all watch it together," he explained.
Rajon Rondo took another 320 students to see Black Panther in his hometown of Louisville. Then, Jabari Parker bought out a theater in Milwaukee to show the movie to 120 kids. Parker also frequently volunteers and donates to the Milwaukee Public School system.
DeMar DeRozan opened up about his depression, which sparked a large conversation on mental illness.
On the Saturday of All-Star weekend, the Toronto Raptors guard tweeted, "This depression get the best of me."
It was only seven words, but soon his inbox was flooded with messages of support from thousands of fans in both Canada and the United States. People were sympathetic to DeRozan, and instead of being met with resistance, he was met with compassion.
It was a less intentional act of selflessness, but the tweet was a reminder that mental illness can affect virtually anyone, even the ones who seem to have it all like DeRozan. He took a brave step forward in the conversation, and as a positive externality, invited others to be more open about their own struggles.
Jimmy Butler granted a Make-a-Wish the day after he tore his meniscus.
A major injury might have kept Jimmy Butler off the court, but it didn't stop him from making an impact beyond basketball. When Butler was put on crutches with a torn meniscus, he still kept his promise to one of his biggest fans and visited him in the Wolves' media room. Matthew Jong is a 14-year-old from Seattle who is battling a rare blood disease, and was thrilled to be able to meet his hero in person.
Warriors players took 40 students to an African-American history museum and another 30 to their game against the Wizards.
During their road visit to Washington D.C., Warriors players toured the National Museum of African American History and Culture with kids from Seat Pleasant, Maryland, the hometown of Kevin Durant. Most of all, Durant said he enjoyed seeing the kids' excitement and smiles when they met the players.
The trip was supposedly a substitute for the champions' trip to the White House that was cancelled by President Trump last year. Stephen Curry echoed Durant's sentiments and added, "It was exactly what we were trying to accomplish when we were planning the whole day. I think everything turned out great." They also provided free tickets for 30 more children from Seat Pleasant to see their game against the Wizards, which was a 109-101 victory for the Warriors.
Malcolm Brogdon started a partnership with Waterboys to help provide clean water in Africa.
Brogdon has always been a model for strong communication and citizenship, which has earned him the affectionate nickname "President." Now, he is partnering with NFL player Chris Long to bring Waterboys' campaign for clean water to the NBA.
Brogdon said a trip to Ghana when he was younger inspired him to want to make a change for the better. He is working specifically with an organization called PureMadi, whose mission is to provide water to the Limpopo province region of South Africa.