We are in the heart of draft season, the best time of the year! During draft season, the sun is brighter, food tastes better, and everything is in harmony – that is, if you forget about all the things that aren't. Fantasy football is about range of outcomes. I believe quarterback A has a better range of outcomes (whether it be a higher ceiling/floor or what have you) than quarterback B, therefore I shall put him in my lineup. All offseason we talk about how Todd Gurley's range of outcomes includes him finishing as the best running back in football again, how Jordan Reed's range of outcomes includes him finishing outside the top 20 tight ends (mostly because of injury history).
This article will also include a range of outcomes or two, or three, or four…I say "not-so-bold" because there is a good chance that all of the following predictions can come true.
Carlos Hyde and Nick Chubb will each finish in the top 24 of running backs
This story sounds familiar. It's almost as if I can still hear the rumblings of the Isaiah Crowell hype train chugging along in the distance, far, far, far away. Crowell was supposed to ride that hype train all the way to gravy town and a high-upside season. I fell for it last season, but this time is different, I swear!
Since half of the preseason has come and gone, we can watch the film. The first preseason game was a bust for the Cleveland backfield. Hyde rushed once for a loss of one yard while Chubb rushed 15 times for 11 yards but had one catch for 12 yards. Instead, I'll be focusing on the Browns' second preseason game, where Hyde rushed nine times for 64 yards and a touchdown and Chubb rushed 11 times for 53 yards and a touchdown.
The problem in the past with taking a Browns running back is that the Browns haven't had the environment necessary to foster an efficient running game. For one, the offensive line hasn't been able to make space for running backs. Also, in case you didn't notice, the Browns spent a lot of their time on the field losing and needing to score points – which, naturally, makes them pass the ball and avoid the running game. To address the issue of the offensive line, and to highlight the athletic ability of Nick Chubb, take a peek at this 17-yard counter.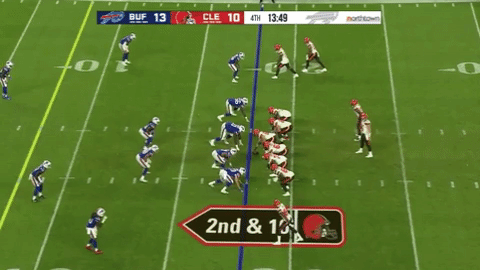 There are a few things to take away from this play. First, notice how the center and left guard are both fast enough to be able to swing to the outside to make crucial blocks in the second level. Second, notice how Chubb is patient enough to wait for the first block and then quick enough to cut when the defender gets past the second blocker. Also notice how it isn't just a regular counter play – watch the left wideout fake the end-around to pull corner away from where the play is going to go. This is just one example of how new offensive coordinator Todd Haley will turn the Browns' offense around in 2018.
To bring it back to fantasy, just convert Hyde's and Chubb's stats to fantasy points. In half PPR scoring, you'll find that they got 12.4 and 12.3 points, respectively. On average in 2017, RB2's scored just over 10 points per week. If Hyde and Chubb can mesh like this in 2018, they'll have no problem achieving RB2 status.
Jimmy Graham will finish as a top-three tight end in 2018
In case you haven't read my previous articles, let me be the first to let you know that I am the official conductor of the 2018 Jimmy Graham hype train and it's Titletown or bust, baby! Jimmy Graham's ADP currently sits at 5.03 and puts him as the fourth tight end off the board. He's going before players like Jarvis Landry, Tom Brady, Russell Wilson, and Marvin Jones.
Popular opinion states that Jimmy Graham won't be worth the fifth-round pick and that he won't finish near the top five. I propose the opposite, that he will be well worth the fifth-round pick and he'll even finish as a top-three tight end in 2018.
Popular opinion also subscribes to the statistics relating to Aaron Rodgers – mostly that he doesn't target tight ends as much as he could. To that I say, humbug! If, like me, you've grown up in Wisconsin and have lived and breathed Packers football, you might also believe, like me, that the Packers haven't had a tight end worth targeting like Jimmy Graham.
You could argue Jermichael Finley would be the best Packers tight end in Rodgers' tenure. In his best season, 2011 to be exact, Finley was targeted 92 times and caught 55 passes for 767 yards and eight touchdowns. In the same year, Graham was targeted 149 times and caught 99 passes for 1,310 yards and 11 touchdowns. Jimmy Graham has five seasons with more yards than Finley's best, seven seasons with more catches than Finley's best, and four seasons with more touchdowns than Finley's best.
Let's compare another former Packers tight end: Richard Rodgers. In his best year, 2015, Richard Rodgers was targeted 85 times and caught 58 passes for 510 yards and eight touchdowns. In the same year, Graham was targeted 74 times and caught 48 passes for 605 yards and two touchdowns – and only played in 11 games compared to Rodgers' 16.
If you want to debate the Packers' scheme and roster construction over the years, I'll allow it. Just let me remind you, however, that Jimmy Graham has also finished as a top-five tight end in four of his last six seasons. I would also like to remind you that Graham was First-Team All-Pro in 2013. Lastly, take a look at these redzone numbers:
In 2016, Aaron Rodgers led the NFL in passing attempts in the redzone (115) and redzone touchdowns (33).
In 2017, Jimmy Graham led NFL pass catchers in redzone targets (26) and redzone touchdowns (10).
Tom Brady will not finish as a top-five quarterback in 2018
Since 2012, Tom Brady has finished as a top-five quarterback four times – one of the seasons he didn't was 2015 when he served a four-game suspension. When he plays for 16 games, Tom Brady consistently, but not always, throws for over 4,000 yards and 30 touchdowns. The problem with Tom Brady as a fantasy quarterback is that he doesn't scramble well and doesn't run the ball – c'mon, we've all seen his 40-yard dash at the Combine.
Saying Tom Brady won't finish in the top five isn't necessarily a knock on him. It's more of a reminder that the quarterback pool is deep this year and laced with quarterbacks who offer more than passing yards.
Take, for example, Russell Wilson. In half-PPR scoring, Wilson finished as the top quarterback with 347.8 fantasy points. He threw for 3,983 yards and 34 touchdowns, but also rushed for 586 yards and three more touchdowns (while averaging 6.2 yards per rush).
Finishing second in half-PPR scoring, Cam Newton averaged 18.7 fantasy points per game in 2017. Newton threw for 3,302 yards and 22 touchdowns in 2017 while also throwing 16 interceptions. He rushed, however, 139 times for 754 yards and six touchdowns.
Both quarterbacks threw for less yards than Tom Brady but still finished ahead of him by the end of the season. When you consider that Aaron Rodgers, Deshaun Watson, and Carson Wentz all had their seasons cut short, you've got at least six quarterbacks that can use their legs to surpass the great Tom Brady.
Stats courtesy of FantasyPros and Pro Football Reference