The Philadelphia 76ers are on an eight-game winning streak, something that hasn't happened since the Allen Iverson-led Sixers did it in 2003. Now, with a young core of Joel Embiid, Ben Simmons, and (recently) Markelle Fultz, they'll look forward to competing in the playoffs.
On Sunday, the Sixers clinched a playoff spot for the first time since 2012. They sit at fourth in the Eastern Conference with a record of 44-30, which would give them home-court advantage in the first round if the season ended today.
This success is a lightning fast improvement from their 28-win season last year, but it should come as no surprise to Philly fans, who have been awaiting the breakthrough for years now. Before that 28-54 season last year, the hope-deprived franchise totaled just 47 wins over three seasons. The Sixers have the potential to eclipse that total this season alone, which would reflect a very quick turnaround.
This rapid reversal is the result of several years of often intentional horribleness, or as Philly fans now affectionately call it, "The Process." For years, the organization's long-term strategy was to abandon the quality of the on-court product in favor of hoarding top lottery picks: The Sixers have had top-3 overall picks in the last four NBA drafts.
The Process, however, was never meant to be this long and painful. The 2014 pick Embiid was out two full seasons before he started playing, 2015 pick Jahlil Okafor was never effective and eventually got traded for practically nothing, and the 2016 pick Simmons also had to miss a full season. All of these hurdles ensured the Sixers would continue to be bad, and thus racking up even more lottery picks along the way.
Their 28-win season last year netted them the No. 3 pick in the 2017 draft, which they then flipped to Boston for the first overall pick. At the top of the draft they selected Markelle Fultz, an athletic point guard out of the University of Washington.
Now armed with three high-potential players in Embiid, Simmons, and Fultz, it seemed The Process was complete and they had the makings of a future dynasty. However the craziness that followed was both unprecedented and downright strange.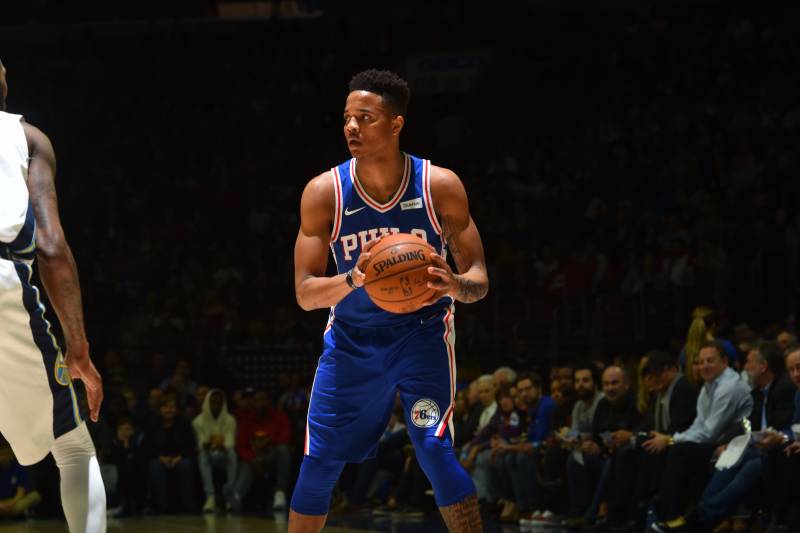 Fultz had a normal Summer League in 2017, but something happened between then and the start of the preseason that seriously affected his jump shot. Some reports suggested that he was working on a few things with his shot mechanics over the summer, which in turn caused a shoulder injury. It's possible the reverse is true, and that a shoulder injury affected the mechanics of his shot.
This is an odd adjustment to make, however, for a player who never struggled with his jump shot and shot 41% on threes in college. The timeline is still unclear as far as which came first, the changed shot mechanics or the injury.
When Fultz appeared in preseason games, people immediately noticed that his jump shot had an added hitch, and it was ugly. Watch these free throws if you think you can stomach it. This triggered an atomic bomb of concern for Fultz's present and future as a player.
Things got out of hand when, on October 23rd, Fultz's agent Raymond Brothers told ESPN that Fultz suffered a shoulder injury and "literally cannot raise up his arms to shoot the basketball." Wait, double take. The number one overall pick in the NBA draft screwed up his shoulder so much that he can't shoot the basketball, but was still on the court playing?
After appearing in just four regular season games, it was announced on Oct. 29th the Sixers were shutting down Fultz indefinitely so he could work through his shoulder problems. The injury was reported as "scapular muscle imbalance," which equates to asymmetrical shoulders, typically caused by an abnormal movement pattern of the overused side. This gives more weight to the theory that Fultz's injury was caused by the shooting mechanics, and not vice versa. To reiterate, it's very bizarre and unprecedented to think that a number one overall pick with an already effective jumper might have decided to change his shooting mechanics over the summer.
Fast forward all the way to February 9th, when Sixers GM Bryan Colangelo held a press conference to address rumors about Fultz. This potential breakthrough event in solving the puzzle of the Markelle Fultz story provided no answers to the major questions, namely, when was he going to come back? Did the injury cause the changed shot, or was it the other way around?
Fultz essentially had to retrain his muscles so that he could shoot a jump shot again, a 'process' that took him until just this week before he could step back on the NBA court again. Finally, on March 26th, almost five months after he was shut down, he made his return against the Denver Nuggets at home. His first shot was an air ball (though it might have been tipped).
It's still way too early to evaluate Fultz against the standards of a number one pick, but for a guy who a few months ago couldn't even shoot a basketball, it's promising that he's at least back on the court. For what it's worth, he's had 15 assists in two games with limited minutes, which somewhat makes up for his unremarkable 33.3% shooting. He has yet to attempt a three-pointer this season.
Until Fultz can prove that he is the player the Sixers had in mind when they drafted him first overall, they will have to rely on Embiid and Simmons to take the team as far as they can go. In an ironic twist of fate, however, Embiid suffered an orbital fracture in his left eye after a collision with Fultz, and will miss 2-4 weeks for surgery. This puts the Sixers in a very tough spot, as their net rating is 16.7 points better with him on the court. We're about to get a taste of what Fultz can do, and Sixers fans are getting impatient.
Statistics courtesy of basketball-reference.com and nba.com