As we return to NBA action after the All-Star break, teams are solidifying their identity and it's becoming clear who is serious about contending for the championship. As the season matures, the NBA's top individual talents are also solidifying their cases for the greatest honor a player can receive, the MVP award. There are plenty of great stories around the league, and several deserving candidates at this point in the season. However, one player is starting to distance himself from the competition.
Before I break down the top contenders for MVP, it's important that I touch on what the award is based on. First, individual performance above and beyond what is expected is obviously crucial to win MVP. Just for the purposes of this article, I will assume the advanced statistic VORP (Value Over Replacement Player) is a pretty good tell-all measure of the value an individual player adds to his team. You can read up on it here if you want to get into the gritty details, but in a nutshell, VORP estimates a player's overall contribution to the team based on a statistical formula.
Second, the NBA has made it very clear that team success is more than just the cherry on top of the sundae, it's an absolutely vital requirement to win the award. Last year, Russell Westbrook was the first MVP since Michael Jordan in 1988 whose team was not seeded either 1 or 2 in their conference. That was only because it would have been criminal to overlook his otherworldly individual performance, as he recorded a VORP of 12.4, the highest by any player in any season ever. Barring an exception like Westbrook, your team needs to be in contention to have a serious chance at being MVP.
James Harden
The coveted MVP trophy has eluded him for much of his career, but it seems this is finally the year James Harden will take it home. Harden checks all the boxes for a typical MVP winner. He has eye-popping stats for the Rockets, who are poised to contend, and he is clearly the reason his team is doing well. His VORP of 5.8 is best in the league, just above LeBron James, who as I'll discuss, could have the best chance to top him.
Harden is averaging a career best 31.3 points per game, which is first in the league by a decent margin. His shooting is efficient, and 38.1% on threes is his best rate since playing with the Thunder in 2012. Beyond all that, he is still getting his teammates involved with 8.9 assists per game. His assist and rebound numbers aren't as impressive as last year, but that should be expected with Chris Paul in the rotation this time around. As of Thursday the Rockets are at the top of the West and are riding a 10-game winning streak.
As it stands right now, with his stats and how well the Rockets are performing, James Harden should win MVP. There are only two realistic scenarios where he doesn't. The first is that he could suffer a major injury, which is always a possibility considering he's missed seven games this season, but unlikely nonetheless. The Rockets could also slip in the standings, but they basically have a 1 or 2 seed locked up with about a full 10 games of separation above the Spurs. If the Warriors catch fire or the Cavs turn their season around with their new roster, Harden will have some competition for MVP.
    2. LeBron James
LeBron is no stranger to being in MVP conversations, and has won the trophy four times in his dominant career. In every season from 2005 through 2013, LeBron had the highest VORP in the league. However, he hasn't achieved that in any year since, which might explain the four year MVP drought he is experiencing. Many say he is subjectively still the best overall player in the league, so he should be a legitimate threat to win MVP every year.
This year, his per-36 averages in all five major stat categories are at or close to his best since his last MVP trophy. He is shooting incredibly efficiently with an effective field goal percentage of 59.1%, a full five percent above his career average.
The Cavaliers are still third in the eastern conference. However, the once large gap between them and the Celtics is quickly closing. The Cavs have won four of their last five, and have pulled within five games of the 2 seed. Meanwhile the Celtics have lost three straight, including a huge blowout in Boston against Lebron's new-look Cavs. That game might be an indication of what's coming for both teams in the remaining part of the schedule, and it doesn't look favorable for Kyrie Irving and the Celtics.
    3. Stephen Curry and Kevin Durant
The problem with giving the MVP award to a Warrior is that it isn't clear at all which player should win it. Do you go with former back-to-back and unanimous MVP Stephen Curry, who is still putting up career numbers despite sharing the floor with three other All-Stars? Or do you give it to Kevin Durant, who has played most of the season and is averaging 25.7 points per game on 51.5% shooting?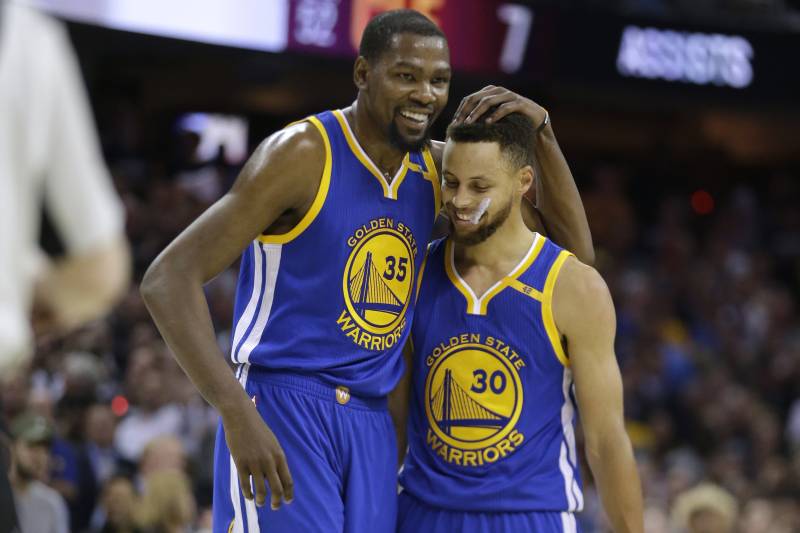 The Warriors are so ridiculously stacked with talent that when one of their two former MVP's has to miss a few games, they can comfortably fall back on the other one. Curry has missed significant time, but the Warriors are 11-4 without him this season. They have won all six games played without Durant. Make no mistake, Curry and Durant are both having incredible seasons in their own right. If there were ever an appropriate situation to have co-MVP's, this might be it.
    4. Russell Westbrook
Westbrook is playing on a better team this year after the Thunder added Paul George and Carmelo Anthony in the offseason. However, that hasn't materialized as well as they might have hoped, as the Thunder currently sit at 5th in the western conference. They are trending upwards though, and are within reach of the third spot only two games above them.
Westbrook isn't quite as dominant as he was during his historical run last year, but his VORP of 5.5 still puts him comfortably at third in the league, and just 0.3 behind Harden. Westbrook is also nearly averaging a triple-double again, with per-game averages of 25.4 points, 10.4 assists, and 9.4 rebounds. These aren't record-shattering numbers, but are still impressive compared to the rest of the league.
Team standing will be the biggest barrier for Westbrook this season, as his individual performance has still been phenomenal, but perhaps not good enough to warrant breaking the unwritten team success rules for the second straight year. Forget about catching up to the Warriors and Rockets, but locking up that third seed could be enough to put him in the discussion.
    5. DeMar DeRozan
The Raptors are first in the East, so I'll go through the motions and throw their best candidate on this list. DeMar DeRozan is playing very well on a Raptors team that has only lost four games at home this season. DeRozan is no doubt a huge part of the team's success, averaging 23.7 points per game. He's even expanded his range to beyond the three-point line, and is shooting a career high 34.2% on threes while taking more than double the attempts he did last year. He also had the fourth best scoring performance of the NBA season against the Bucks, pouring in 52 points on 59% shooting on Jan. 1st.
However, he doesn't look like a serious candidate to win MVP this year. His VORP doesn't even crack the top 20, and his game is pretty one-dimensional for what an MVP typically brings to the table. Meanwhile, his teammate Kyle Lowry might be having a better season with averages of 16.6 points, 6.5 assists, and 5.7 assists. Lowry's VORP of 3.1 is also good for 14th in the league.
    6. Giannis Antetokounmpo
In the preseason, retired legend Kobe Bryant was giving challenges to some well-known athletes and performers with the hashtag #MambaMentality. He challenged football player Richard Sherman to break the Seahawks' interception record, and musician Kendrick Lamar to "revolutionize the music program at Centennial High School." Giannis, fresh off of his Most Improved Player season, wanted a challenge of his own.
The Twitter world went insane, and thus Giannis' first legitimate MVP campaign began. Kobe's challenge and the recent death of his father Charles were both huge motivators for Giannis to push himself to the next level. He got off to a hot start, and dropped more than 30 points in his first four games, including a huge 44-point performance against the Blazers.
Giannis is averaging an impressive 27.8 points per game, good for second in the NBA, along with 10.4 rebounds, 4.8 assists, 1.4 steals, and 1.3 blocks. His VORP of 4.4 is good for fourth in the league, which should put him in the conversation if nothing else. Moreover, the Bucks are playing a lot better with their new coach Joe Prunty and have won 9 of their last 12 games with him.
The Bucks will have to continue to play well if Giannis wants to win MVP. Part of that winning formula is making sure he can contribute at a high level, and getting him the ball often. Currently the Bucks are the fifth seed in the East, which isn't great, but if Giannis can push them over the Wizards and possibly even the Cavs, he could be a serious candidate for MVP.