The Eastern Conference has looked a lot better than many speculated, with multiple teams looking to compete in a less predetermined race. The Western Conference, on the other hand, has played out more predictably, aside from Oklahoma City. Golden State is dominating with the league's top offense and net rating, and Houston and San Antonio are close behind.
Did anyone imagine that at this point in the season the East would have a winning record over the West? The western conference has some powerhouse teams, but there are also a lot of irrelevant teams sitting at the bottom with very little hope to make something of this season (Phoenix, Sacramento and Dallas to name a few). They are the primary reason for the unusual conference disparity. Hopefully, this trend will stay for the long run, and restore some sense of balance to a league that has seen some great teams unfairly excluded in the brutal western conference. In fact, Adam Silver recently said he would consider changing the playoff structure to a top-16 system that would do away with the conference system altogether. However, Rachel Nichols on ESPN's "The Jump" pointed out that this wouldn't be as practical as it sounds.
Perhaps the biggest surprise of the season is that there haven't been many surprise teams at all. There were some weird ones early on, but most of the glaring anomalies have quickly returned to their expectations. Orlando looked like an absolute juggernaut coming out of the gates, but has since fallen off. The same goes for Memphis and the L.A. Clippers, who have now lost nine straight.
It's what statisticians call the Law of Large Numbers; the more data you collect, the closer your numbers should be to the truth. Yes, it seems the basketball gods are slowly restoring order to the standings. However, there are still some teams that have either over performed on their expectations, or come out flat to start the year. We'll look at three teams from the East who have overperformed, and two from the West who have underperformed to see why the East is looking a little mightier these days.
Boston Celtics (16-2)
Since losing Gordon Hayward, the Celtics have left the NBA in the dust. They have now rattled off an unprecedented 16 straight victories, many of them coming in dramatic fashion. Their streak has come in jeopardy on several occasions, and the relatively young lineup has answered to the challenge every time.
Kyrie Irving, their battle-tested point guard, is proving to be as clutch as he's always been. Per Sportscenter, Irving has an absurd 78.0 Player Efficiency Rating in the last five minutes of a game when the point differential is 5 or less. Al Horford is filling his role as a stretch-five very well, and is highly effective in pick-and-roll situations with Irving.
The Celtics might slow down a bit as their schedule starts to get tougher. They've had convincing wins over the Warriors, Spurs, and Raptors, but they'll need to continue their hot streak against some of the East's premier teams in the coming weeks. They dropped their only matchup with the Cavs and have lost one to the Bucks. Granted, they haven't lost since that 0-2 start, but at some point their late-game magic will inevitably falter.
Detroit Pistons (11-6)
Coming into the season, many speculated Detroit had some potential to be a good team, but very few had them faring as well as they have so far. They are holding their ground as the current third seed in the Eastern Conference, amidst teams like Boston, Toronto, and just recently, Cleveland.
Forward Tobias Harris is averaging a solid 18.7 points per game, and could end up being an All-Star if the Pistons keep winning. Reggie Jackson and Andre Drummond are playing much better than they did last year. Avery Bradley is also looking solid in a Pistons uniform after coming over from the Celtics.
Despite the reliable individual play, their starting lineup has done the opposite of find their groove. The lineup is the second worst in the league, only behind a Kings lineup that coach Dave Joerger abandoned quickly.
New York Knicks (9-7)
Third-year forward Kristaps Porzingis has looked like an MVP candidate, and is having a breakout year with 27.6 points per game. He's brought out the "razzle dazzle" (as announcer Walt Frazier might say) on several occasions. Also having a solid year is their French rookie Frank Ntilikina, who leads the league with 3.4 steals per 36 minutes. He even scuffled with Lebron and refused to back down in a hard-fought loss to the Cavs.
The Knicks probably have the most delusional fanbase in terms of unrealistic expectations, but the MSG crowds actually have something to be excited about this year. At the very least, the Knicks are putting out a quality basketball product for the fans. Who knows if their success will last, but they could be just good enough for a playoff spot in the East this year.
Now let's look at the woes that some western conference teams have experienced.
Oklahoma City Thunder (7-9)
The major letdown in the NBA so far has been the Thunder, after they added stars Paul George and Carmelo Anthony in the offseason. However, Oklahoma City's 7-9 record is less due to their overall performance than it is their inability to close out games. For example, they blew a 23-point lead in San Antonio on Friday. They have a top-5 defense, and their net-rating is very high despite the losing record, which is promising.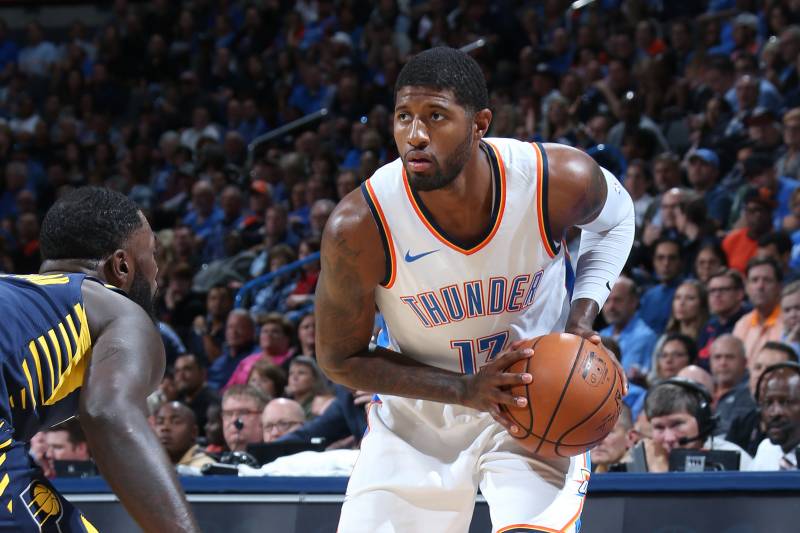 Nonetheless, there is room for improvement, especially on the offensive end. The Thunder could stand to improve their shooting to start. Russell Westbrook and Anthony have struggled as of late, shooting 34.7 and 37.7 percent, respectively. George has been holding it together as a consistent scoring punch, leading the team with 21.9 points per game. Overall, I don't think there's any cause for alarm in Oklahoma City. After all, the team's main core is still learning to play with each other after each being the first options on their respective teams previously. They have held up quite well, but need to improve on their late game competence.
Los Angeles Clippers (5-11)
Yes, they lost Chris Paul in the offseason, but the Clippers should still have a strong enough core to edge out mediocre teams in the West. They retained stars Blake Griffin and Deandre Jordan, and added Danilo Gallinari in the offseason. Griffin has managed to stay healthy so far, of which is major importance for the Clippers' success moving forward. He has played in just 163 games in his last three seasons, or about two thirds. In an exciting twist, this season he fully expanded his shooting range to the perimeter. He is now splashing 2.1 threes per game at a respectable 34.7 percent rate.
The Clippers are sliding fast after starting the season hot at 5-2. They've dropped their last nine games, largely due to lackluster defense and inability to close out games.  However, hope is returning in the form of Patrick Beverley, their tough-spirited point guard who holds the team together like glue. Beverley missed the last five games and his absence was felt. The Clippers can also rebound quickly with an easy schedule coming up, as their next five games are against sub-.500 teams.